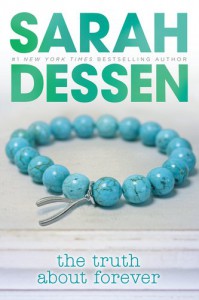 Contemporary YA is not generally my bag, but I've heard a lot of great things about Sarah Dessen. I was not disappointed!
The Truth about Forever
tells the story of Macy. Macy saw her father die a few years back, and ever since then she's been desperately trying to appear perfect. When her perfect boyfriend goes off to camp for the summer, she begins to find that being perfect all the time isn't the solution to all her problems.
I don't like sad books, and I don't like sappy books. This book is neither, in spite of the subject matter. Macy felt very much like a real person. She was very passive, which was a little frustrating to me, but it was totally in keeping with her character.
Yes, there is a romance, and it's a good one, but it isn't the whole focus of the book. This is not what I would call a romance novel in disguise, as so many YA contemporary novels are.
I did feel that the ending was a little abrupt. I really wanted to spend a little more time with the characters. The action rose to a fevered pitch, and then 3 pages later the book was over. But really, isn't it a recommendation of the book that I wanted to stay longer with the characters?
Highly recommended, and I can't wait to read more of Dessen's novels!